Of Kings and Men
Clan Wochs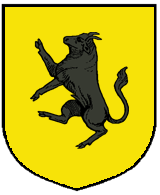 "All Foes will be Slain"
"Clan Wochs is a proud and noble house of the West. Their claim to fame is their conquest of the Western regions, taking them from the vile gnolls, fighting them and humans who refused to submit every step of the way from the foothills of Dragonpeak to the Heiros Mountains.
They are an odd, but well-respected, clan. They use weapons uncommon in other houses – greatswords, longblades and heavy crossbows, and are considered by many to be arrogant and aloof, looking down upon other clans and the common people.
Many suspect this clan because even though it's members are oft seen throughout the realms and at festivals and fairs, the members higher in the hierarchy tend to be secretive and not speak of anything relating to their clan even when talking to Lords, hence little is known of the Clan's actual structure or the activities of the Lords.
The realm protectors of Clan Wochs are known for their cruelty and malice, extracting taxes and goods violently and taking as much as possible, leaving their people poor. They often leave hanged men or men in gibbets for everyone to see and known that Clan Wochs rules this realm and they shall suffer no rebellion, nor questioning of their rule.
The Lords of the realm are also eager for battle, often fighting amongst themselves in what they dub as "the Noble Sport". This has brought them into conflict with Clan Morris, which resents them for throwing away good men for no reason.
Lord Andros Wochs, the former ruler, was a jolly fat man who walked around in a great suit of chainmail, and often demanded that other lords or knights face him in combat, which he quickly ended with the Wochsian artifact greatsword called "The Bull Horn". There are many rumours about his supposed activities and affiliations, but they shan't be referred to here, for there is no way to confirm the truth of these allegations.
Lord Joffrey Wochs, the current ruler, is a lanky dark-haired youth who is known for being one of the youngest squires to have ever been knighted. He rides atop his black steed during every occasion when he must appear before his subjects. He always appears in his yellow armour and never takes off his helmet – even to speak to other lords. He does not use his Clan's artifact greatsword, which has caused some controversy amongst his subjects.
Their capital lies at Berstadt, a grim castle situated on a great hill and a city extending far and wide in every direction around it. Their natural resources of wood, iron, stone and steel-making components have led them to be prosperous and wealthy, though at the cost of making their cities poorer. To compensate for this, they often use cheap gnoll, halgnoll and other vagrant labour."